Head Teacher's Welcome
skills for the life we want
It is my pleasure to welcome you to Calthorpe Academy, a 2-19 special needs school in the centre of Birmingham. The Senior Leadership team and I are determined to provide the best possible education to our learners regardless of their needs, background, beliefs or age to enable them to develop the 'skills they need for the life they want'.
We strongly believe that all our learners have the right to be safe, engaged and happy to enable them to learn effectively. Our strength is our diversity, creativity and unconditional care for our learners who are at the centre of everything we do.
Calthorpe Academy is proud to be part of Thrive Education Partnership. Our previous Headteacher, Richard Chapman is now the CEO and has designed a succession planning programme aimed at retaining and developing our outstanding team of leaders to grow Thrive leadership capacity.
Continuous external reviews are an essential part of our academy ethos, as well as a good quality assurance model used by our Board of Trustees to assess the effectiveness of the academy. The academy's external monitoring visits take place regularly using our School Improvement Partner or other specialists such as Judicium for our Health and safety and safeguarding audit. Calthorpe is part of the Birmingham Special School Association which has allowed the Academy to work in partnership with 27 local SEN schools on CPD and peer-to-peer reviews.
Calthorpe Academy has received the prestigious IQM flagship award, for its continued work around Inclusion. In addition, the Academy has achieved the Music Mark award for its commitment to providing high-quality music education. The Academy continues to keep its Quality Mark for English and Mathematics and The Quality in Careers Standard Award.
I am very proud to be part of this fantastic school and to serve the Calthorpe community as a leader and aspire to only provide the best for our amazing learners.

Best wishes,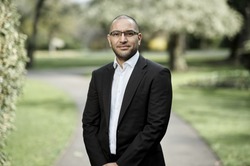 Mounir Meghalsi