Bikeability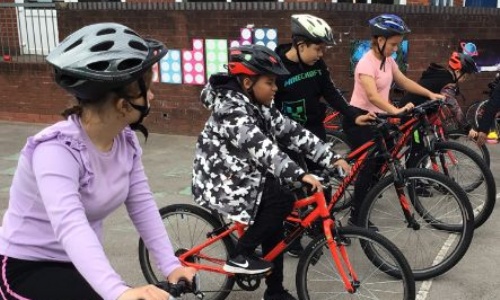 This week in L4, we have had the opportunity to learn how to ride bikes safely in the community.
At the beginning of the week, Paul and his team from the organisation 'Bikeability' came into school and showed us how to check the bikes and helmets were safe to use, before going into the playground to begin our training.
We were shown how to stop safely, using the brakes and how to manoeuvre around obstacles. For those children who were ready, we moved on to learning how to signal when changing direction.
As the week progressed, some learners continued to learn how to ride their bikes and for some, this was the first time they were able to do it independently!
Some learners then went into the school car park to learn how to safely get on and off the bike when near a road.
Two learners then progressed onto Level 2 of the course and spent some time on the roads outside of school. They were able to ride confidently and safely on the main roads, making U-turns, when needed and signalling to turn.
All of L4 really enjoyed this week and learnt lots of new, brilliant life skills that support goals set within our Independence curriculum. We are very proud of how well all the learners worked this week! Well done L4!